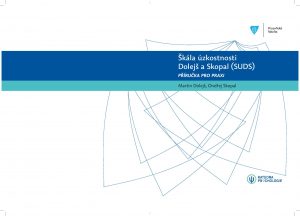 Komplet obsahuje příručku k metodě SUDS, 500 ks dotazníků a vyhodnocovací fólii. Škála úzkostnosti Dolejše a Skopala (SUDS) je rychlým screeningovým nástrojem využitelným jak v testové části klinického vyšetření či v edukačním procesu, tak v poradenství. Úzkostnost je jednou ze základních charakteristik osobnosti člověka. Jedná se o rys, který ovlivňuje lidský život, vnímání světa i sebe samého. Úzkostný lidé nedokážou objektivně ohodnotit své výkony a sebe, často se podceňují a mají nízké sebehodnocení. Jsou to lidé, kteří jsou psychicky zranitelný a často žijí svým vnitřním životem. Diagnostikovat úzkostnost již v období adolescence je důležité, protože to umožňuje efektivnější redukci tohoto rysu, tak aby došlo u daného člověka k zlepšení jeho života. Příručka obsahuje populační normy (věk 11-15 let) poskytující uživateli jednoduchý a rychlý přehled toho, jak si adolescent vede v tomto rysu vzhledem k populaci vrstevníků.
Kompletná testovacia sada metódy SUDS obsahuje príručku, 500 kusov dotazníka a vyhodnocovaciu šablónu. Akronym SUDS vyjadruje názov metódy – Škála úzkostnosti Dolejša a Skopala. Ide o screeningový nástroj, ktorý je možné využiť v klinickej i poradenskej praxi. Diagnostické závery vyplývajúce z informácií získaných metódou SUDS možno využiť na formuláciu diagnostických hypotéz o úzkostnom správaní vo vzťahu k osobnostnému nastaveniu a aktuálnej situácii, v ktorej sa človek nachádza. Informácie o miere úzkostnosti dospievajúcej populácie možno využiť pri cielenej preventívnej činnosti. Príručka obsahuje populačné normy pre vekové skupiny od 10 do 15 rokov, ktoré predstavujú rýchly prehľad toho, ako veľmi je konkrétny človek v danom veku úzkostný vo vzťahu k rovesníckej populácii.
Anxiety is one of the basic characteristics of a human´s personality, influencing the perception of the world and of oneself. Anxious people can not objectively evaluate their performances and oneself, they often underestimate themselves and have a low self-esteem. It is important to diagnose anxiety during the adolescence period because it allows a more effective reduction of this feature and, therefore, an improvement in the life of the individual. The manual contains population standards (ages 11-15) providing a simple and quick overview of how a teenager performs in this feature relative to a peer population.
Jazyková verze: anglická, makedonská, slovenská a česká (language version: english, macedonian, slovak, czech)

Citace: Dolejš, M. & Skopal, O. (2016). Škála úzkostnosti Dolejš a Skopal. Olomouc: Univerzita Palackého.
Žádost o metodu SUDS pro výzkumné účely/ Application for the SUDS or SADS method for research purposes